Pebble has returned to Kickstarter with their latest piece of hardware, the Pebble Time. Unlike the Pebble Steel, this isn't just an aesthetic upgrade. Think of this as Pebble 2.0.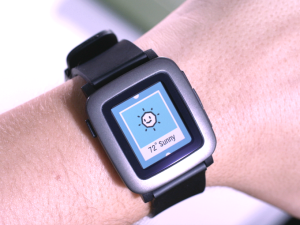 I'm very torn. On the one hand, I very much love my Pebble. I bought it in September of 2013, and it has steadily gotten better over the course of a year's worth of updates. My phone stays in my pocket, silent and with vibration turned off. I get my sports scores, pay for my Starbucks, and turn off my lights with my watch. That's pretty great.
On the other hand, the Apple Watch is coming. Yes, I know the battery life won't match the Pebble brand's seven day battery life. No, the Apple Watch can't be worn in a swimming pool. But it's an Apple accessory for an Apple device, and that could make the difference.
If I had an Android phone, the Pebble Time would be a no-brainer. But one need look no further than this disclaimer about the Pebble Time's built-in mic.
*Sending voice replies works with most major Android apps including SMS, Hangouts, Gmail, Facebook Messenger, Whatsapp and hundreds more. For iOS users, voice replies are currently limited to Gmail notifications. We're working to enable voice replies for more apps.
Ugh.
I get it. It's my fault for buying in to Apple's walled garden. But it's a nice garden. And so far, the original Pebble has been able to play well. Who knows? Perhaps they'll be able to offer a broader range of voice options by the time Pebble Time launches. But I know that Apple Watch will work flawlessly with my iPhone.
The Apple Watch is rumored for an April release. Hopefully we'll get more details in March. Hopefully before March 27 when the Pebble Time Kickstarter ends. Because I'm ready for a new watch. And I backed the Pebble Time in case they sell out of their initial allotment. Unless the Apple Watch truly wins me over and I can cancel my Kickstarter pledge in time. Because I'm a consumer whore.